Farm holidays
in Siusi allo Sciliar – South Tyrol

Welcome to
your farm holiday at the farm Miesnerhof!
Are you looking for a place where you can enjoy rest and relaxation in the heart of nature? Then we are your best choice! The farm Miesnerhof in Siusi allo Sciliar-Castelrotto is located in one of the most beautiful areas of South Tyrol. We invite you to spend an unforgettable and relaxing farm holiday in South Tyrol-Castelrotto, where colourfully blooming meadows and the beautiful mountains shape the landscape. Our family-friendly farm is located in a quiet, sunny location on the edge of the forest, right at the foot of Mount Sciliar. Mount Sciliar is one of the most famous massifs in the South Tyrolean Dolomites, which has been a UNESCO World Heritage Site since 2009.
In the Sciliar area, you have the opportunity to enjoy absolutely fantastic views. Surrounded by Mount Sciliar and Alpe di Siusi, the area includes not only the boroughs of Castelrotto and Fiè allo Sciliar, but also the beautiful nature park Sciliar-Catinaccio.
Our farm in South Tyrol is nestled in a picturesquely landscape on the edge of the forest in the village of Siusi allo Sciliar. When building our farmhouse and our apartments at Mount Sciliar, we placed particular emphasis on a healthy ambiance and closeness to nature, which is why we opted for a wood construction. The feel-good atmosphere that we have created makes our holiday farm a true relaxation paradise for active vacationers and those looking for relaxation. Spend unforgettable holidays in the Sciliar area and choose an apartment in Siusi allo Sciliar. We look forward to your visit to our farm in Siusi and wish you a pleasant stay!
Inquire now for free & without obligation!
Our four-legged friends
Our family-friendly farm offers a home not only to us and our guests, but also to many animals: the cows and calves in the barn or on the pasture, the lazy donkey "Fleirl", the little pony "Bläcky" and his wife "Trudi", the large Haflinger horse "Titanic", the cackling chickens, the many sheep, the cheeky guinea pigs, the lovely rabbits, and the cute cats. Our playful dog "Flocky" is always happy to be petted and cuddled. Here at the farm Miesnerhof, you may experience first-hand how the animals enjoy their everyday life. During the feeding times, you are welcome to help us taking care of our farm residents and to feed them.
In the summer months, the cows, sheep, horses, and ponies move to Alpe di Siusi for a summer break. Surrounded by green meadows, they enjoy pure freedom and the lush alpine grass. You are welcome to visit the animals with us at the Lodge Saltnerhütte during your farm vacation.
Holidays in Siusi allo Sciliar / Dolomites – South Tyrol
From the farm Miesnerhof, you may enjoy wonderful views of Mount Sciliar, the striking symbol of South Tyrol. Near your holiday apartment on the farm, you'll find the cable car Alpe di Siusi, which takes you directly to Europe's most beautiful high alpine pasture, the Alpe di Siusi. In the summer, the Alpe di Siusi recreation and hiking area presents itself in a rolling sea of grass and colourful flowers. Countless hiking paths with impressive views of Mount Sciliar will turn your holiday in Siusi-Castelrotto into an unforgettable hiking holiday. However, the Alpe di Siusi – Dolomites with its gentle hills also has plenty to offer for winter sports enthusiasts.
The Lodge Saltnerhütte in Tschapit
… right on the Alpe di Siusi with a grand vista of the legendary Mount Sciliar
Discover the largest alpine plateau in Europe from its most beautiful side. Surrounded by lush green and flowery meadows at 1850m above sea level, you will find the Lodge Saltnerhütte Tschapit in the heart of the nature park Sciliar-Catinaccio. The striking Dolomites are right in front of you, not to forget the fantastic view of Mount Sciliar, which is also known as South Tyrol's local mountain. Our family-friendly lodge is not only a meeting point for hikers and gourmets, but also the ideal destination for children. While your children are having fun on the playground and at the petting zoo, you may sit back and relax on our lawn and enjoy the majestic mountains of the Dolomites…
We – Carmen and Josef with our 3 children Martina, Thomas, and Elisabeth – welcome you to our small yet inviting farm. The five of us manage the farm together, as well as an alpine hut on the Alpe di Siusi in the summer. Everyone contributes to the wellbeing of people and animals in our house.
Sepp is a passionate farmer and he loves working with animals. Thomas actively supports him and helps every day to look after our animals. Are you a big animal lover too? We are always happy when we can pass on our knowledge to our guests, thus, we invite you to visit us at work in the stables.
Carmen takes care of the animals as well as of our guests. If you are interested in customs and traditions, then Carmen is the person place for you: Feel free to just ask. She will also be happy to teach you about felting. By appointment, you and your children tinker small souvenirs made of wool during your farm holidays.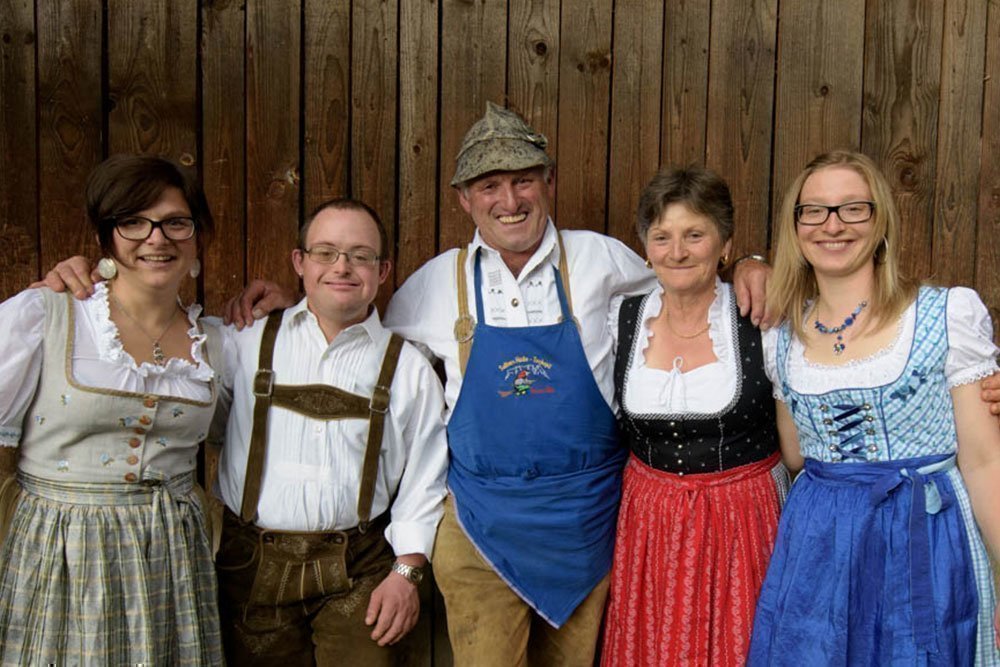 Familie Karbon stellt sich vor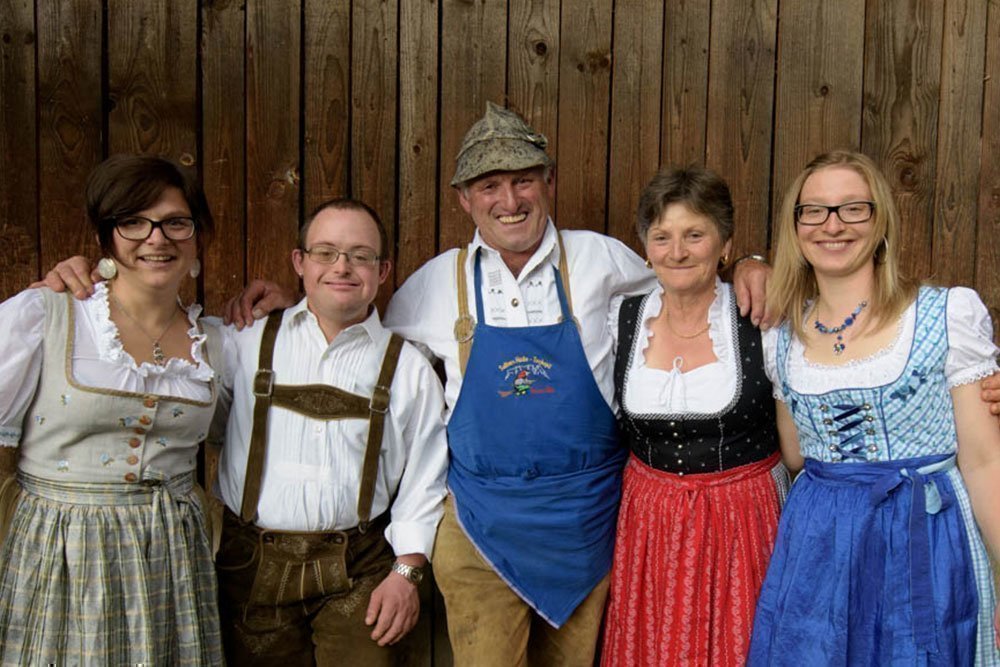 Wir begrüßen Sie recht herzlich auf unserem kleinen, aber feinen Bauernhof. Wir sind Carmen und Josef und unsere 3 Kinder Martina, Thomas und Elisabeth. Wir Fünf bewirtschaften gemeinsam den Hof und im Sommer eine Almhütte auf der Seiser Alm. Bei uns trägt jeder einzelne dazu bei, dass es in unserem Haus Mensch und Tier gut geht.
Sepp ist ein leidenschaftlicher Bauer und er liebt die Arbeit mit den Tieren. Thomas steht ihm tatkräftig zur Seite und hilft tagtäglich dabei, unsere Tiere zu versorgen. Sind Sie auch ein so großer Tierliebhaber? Wir freuen uns immer sehr, wenn wir unser Wissen an unsere Gäste weitergeben können, deshalb laden wir Sie herzlichst ein, uns bei der Arbeit im Stall zu besuchen.
Carmen kümmert sich neben den Tieren, auch um Sie, unsere Gäste. Sollten Sie sich für Brauchtum und Tradition interessieren, dann sind Sie bei Carmen genau richtig: Zögern Sie nicht und fragen Sie einfach nach. Sie bringt Ihnen auch gerne das Filzen näher. Nach Vereinbarung können Sie und Ihre Kinder eine kleine Erinnerung an Ihren Urlaub auf unserem Bauernhof aus Wolle zaubern.
Unser Sepp, Carmen und Elisabeth bewirtschaften in den Sommermonaten die Saltnerhütte, deshalb leben im Sommer nur Martina und Thomas am Miesnerhof. Martina wird Sie am Hof empfangen und steht für Fragen selbstverständlich jederzeit zur Verfügung. Sie ist zum Wanderführer ausgebildet und unternimmt auf Nachfrage gerne unterschiedliche Touren mit Ihnen: Von der leichten Wanderung für die ganze Familie bis zu Anspruchsvolleren Routen auf die höchsten Gipfel.
Elisabeth ist jederzeit für Sie da. Sie kümmert sich, neben der Arbeit auf der Saltnerhütte, um Ihre Anfragen und Wünsche, beantwortet offene Fragen und steht Ihnen mit Rat und Tat zur Seite.
Wir, Familie Karbon freuen uns auf Ihre Anfrage und auf einen Besuch auf unserem Miesnerhof in Seis am Schlern!
During the summer months, Sepp, Carmen, and Elisabeth also manage the Lodge Saltnerhütte, which is why only Martina and Thomas live at the farm Miesnerhof in the summer. Martina will welcome you at the farm and is of course available at any time for questions. She is trained as a hiking guide and will be happy to take you on various tours (on request): from easy hikes for the entire family to more challenging tours to the highest peaks.
Elisabeth is always there for you. Besides working at the Lodge Saltnerhütte, she takes care of your inquiries and requests, answers questions and is at your side with advice and action.
We, the Karbon Family, look forward to your requests and to your visit to our farm Miesnerhof in Siusi allo Sciliar!

That's what our guests say about us…
Dear Karbon family,
we felt at home on our farm and on your alpine pasture. All members of your family have taken care that we are not lacking in anything. Great tips for trips, sniffing the barn, the experience of driving the cows to milk and your incredible hospitality on the mountain pasture, the welcome cake, the cute cats, the trampoline, the well-equipped and cozy apartment and, and, and…
We would love to come back because we have by no means hiked all the wonderful paths and wonderful views.
Touching warmth in beautiful surroundings.
Thank you so much!
– Family B. from Dortmund –