Unforgettable holidays for children
at our farm in the Sciliar area – South Tyrol

There is no space for boredom on our family-friendly farm. Experience fun and games on our farm, everything you might wish for – for young and old. Spend an unforgettable time together as a family. While your children take a discovery tour in the courtyard, you may sit back on our sunny lawn and enjoy the unique view of Mount Sciliar. A large meadow and our small playground with a swing, slide, sandpit, table tennis, table football and trampoline offer plenty of variety for your holidays, where children may romp and play freely. There are even a goal posts for the enthusiastic football players. All that is not enough for your children? Then combine play time with a short hike: In just 10 minutes, you may reach a large playground (2000sqm), where there is definitely something for everyone. On the way there (above our farm) you will find our newly built tree house, which is waiting to be discovered by you.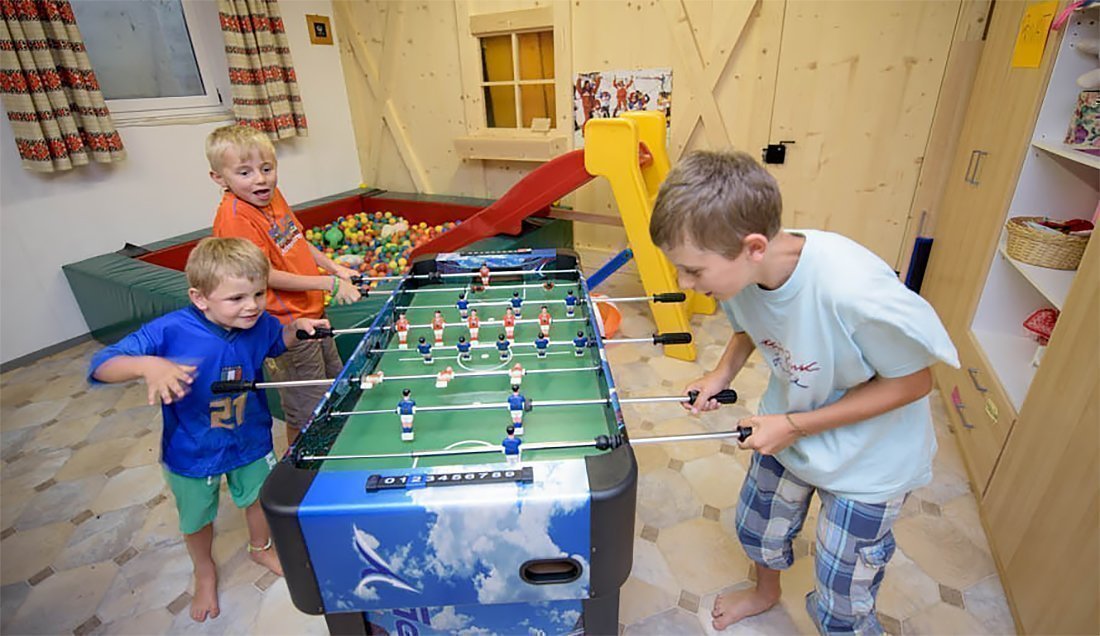 Romp, play, and experience nature …
There is plenty of space to play in the nearby forest and by the stream and with a bit of imagination you and your children may build wonderful worlds with natural materials. This is definitely a special experience for the entire family.
If you are not yet tired, you may have a race with our bicycles or with our pedal tractor.
In case of bad weather, you will find a large playroom in our house. There is a great selection of toys and board games and even a small but fine in-house library for young and old.
A special attraction of our farm are the products made from sheep's wool. In the winter, you and your children may even learn felting (upon request).
Inquire now for free & without obligation!
Animals on the farm
very close – friendly to children

Our farm is a small livestock business. Here you can get close to some animals:
The cows and calves in the stable or out on the pasture, the watchful farmdog "Rexi" the little pony "Blacky", the big Haflinger Horse "Ilse", the clucking hens, lots of sheep, the cheeky guinea pigs, the nice rabbits and the sweet little cats you can play with.
Your children may of course feed, stroke and caress the animals and you are welcome to go into the stable withthe farmer Sepp and get to know the animal's world.
In the summer months our cattle, horses and sheep are brought up to our mountain pasture the "Saltnerhütte in Tschapit", where they enjoy the healthy fresh pasture grass in freedom. You are always welcome to come up to out mountain pasture to visit our animals.